Are you in physical or emotional pain all the time or at least once a month due to painful periods and/or PMS and/or other problems related to your Period?
Does working smarter not harder appeal to you? Are you noticing that the harder you work, the farther away the goal post and fulfillment seem to move?
Have well-meaning doctors offered you Birth Control and/or presented Hysterectomy as the only solutions for your Period Problems?
Are you exhausted from the process of learning about the biology of your womb, cramp relief, yoga poses, the "right" diet, the right supplements, the right hormones, only to realize that knowledge isn't ending your pain and you crave an END to the suffering, not temporary relief?
Is there a knowing nestled deep in your heart that keeps saying: it's got to be easier than this, there has to be a way to end my Period Problems?
If you answered yes to any of these questions, we can help.
Selena T., San Francisco, US
Even from the beginning, it was looking at my cycle in a way I never really knew before. She gave me a critical understanding of what is happening at different times of the month, and tools on how to cope and capitalize on timing. I can now create a schedule that aligns better with my productivity and I feel like I'm finally taking care of myself in a much healthier way... it has definitely made a significant difference in my life.
Leigh, Atlanta, US
I started my journey with Christine a few months back during a workshop she held. Every step of that workshop I was floored by the information I learned and since the workshop my touch points with Christine have been transformational and validating. I look forward to my upcoming sessions with her.
Amandine, Nice, France
Christine Marie is an incredible, authentic soul, and mentor/coach. In the 7-Day Audacious Dare, I felt incredibly held, supported, yet challenged--challenged to be, feel, do, differently. If you've been thinking about working or creating with Christine Marie, it is time. Her "client experience" is outstanding and unmatched!
Susan L., Los Angeles, US
You literally live in to the change--I didn't understand it at first, but the way Christine Marie's Coaching works is that the little things that we tend to ignore really do reflect the big things. Working with her helped me peel back layers around things that I didn't want to deal with and as we did this work we were also working with the Menstrual Phases at the same time. By the end of the trajectory, my life had changed and my body was in alignment with my cycle.
Magaret K., Connecticut, US
I can't even tell you how much that you have touched my heart and what a positive influence that you have had on me. I am so very grateful that our paths crossed...thank you again for bringing your beautiful spirit into my life!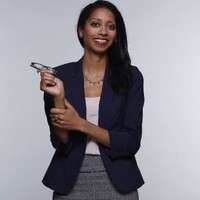 Ashley T., Munich, Germany
I can only speak in high praise to this amazingly comprehensive course. I'm practicing the exercises and focusing on exactly what you mention (in each module) and I'm already seeing instant changes. For example, I used to feel under pressure to immediately perform and deliver at work, and wasn't putting myself first and now, I have limits and I can say, "hey, don't do this"...without going out of my way to also say, "I'm so sorry". I really am loving being a woman, and in particular loving my period, even though I hated my period. But now I'm realizing the connection that we have with our bodies and with ourselves. And it's a very, very beautiful experience.
Sofia, Hannover, Germany
Well, I wanted to say, thank you so much. Because I actually started like to notice the changes through our sessions. I mean, it's very difficult for me to explain it with my words. And this is something amazing that I also learned from you, that I don't have to focus on word responses, but that I can also listen to what my body has to say. I've been listening more to my body. And it has helped me make decisions in situations where I might feel a bit insecure, and whenI don't have the words. Now, I identify how my body feels, and I have begun to listen to it. What I really love about our session is that you work with me with the things that I am capable of–I mean you are helping me to acknowledge what I am capable of. This is the way the coaching has impacted me. But it's amazing, because you have helped me to acknowledge what I am capable of. It is like discovering something new that actually already existed within me. We are already very valuable, we just don't know it. So it's like to work in what we already have, and to somehow embrace it. And also, somehow, yeah, improve it and make it shinier. I've seen, in many situations in my life now, how to put what we do into practice. You somehow guide me, this is something I really, really love about your coaching, that despite the fact that you're like, always there, it's like, you help me, you guide me to actually make these discoveries by myself, right? Does that make sense? And it's amazing, because even while, I'm saying this. While I'm sending you this voice note, my body feels good, I don't know how to explain it. It's been it's been really amazing working with you. And I also like learning how to listen, not just talk, because talk is somehow easy, but listening–to my body, to my heart, is like the real part. So thank you very much. I'm super, super grateful with our coaching together and other sessions that are coming, that I'm already looking forward to. So I can just recommend this way. I mean, this is the very first time I'm doing coaching in my life. I can recommend it for sure because it's like–it has helped me a lot. A lot. Thank you so much for for helping me walking through this path that I already had in mind, but wasn't sure how to walk through. Thank you very much.